Pepperl+Fuchs KCD2-SR-EX1.LB Switch Amplifiers KCD2-SR-EX1.LB Safety Barriers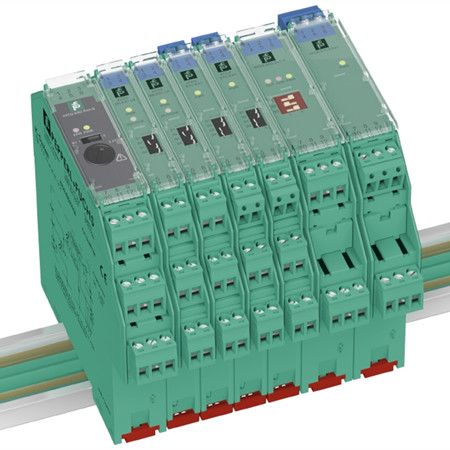 Features of Pepperl+Fuchs KCD2-SR-EX1.LB Switch Amplifiers KCD2-SR-EX1.LB Safety Barriers
• 1-channel isolated barrier
• 24 V DC supply (Power Rail)
• Dry contact or NAMUR inputs
• Usable as signal splitter (1 input and 2 outputs)
• Relay contact output
• Fault relay contact output
• Line fault detection (LFD)
• Housing width 12.5 mm
• Up to SIL 2 acc. to IEC 61508
Function of Pepperl+Fuchs KCD2-SR-EX1.LB Switch Amplifiers KCD2-SR-EX1.LB Safety Barriers
This isolated barrier is used for intrinsic safety applications. KCD2-SR-EX1.LB It transfers digital signals (NAMUR sensors/mechanical contacts) from a hazardous area to a safe area.The proximity sensor or switch controls a form A normally open relay contact for the safe area load. KCD2-SR-EX1.LB The normal output state can be reversed using switch S1. Switch S2 allows output II to be switched between a signal output and an error
message output. Switch S3 enables or disables line fault detection of the field circuit.
Pepperl+Fuchs KCD2-SR-EX1.LB Switch Amplifiers KCD2-SR-EX1.LB Safety Barriers
During an error condition, relays revert to their de-energized state and LEDs indicate the fault according to NAMUR NE44.A unique KCD2-SR-EX1.LB collective error messaging feature is available when used with the Power Rail system.
Due to its compact housing design and low heat dissipation,this device is useful for detecting positions, KCD2-SR-EX1.LB end stops, and switching states in space-critical applications.
Ordering Codes of Pepperl+Fuchs KCD2-SR-EX1.LB Switch Amplifiers KCD2-SR-EX1.LB Safety Barriers
KCD2-SCD-1 KCD2-SCD-EX1 KCD2-SR-EX1.LB KCD2-SR-EX2 KCD2-STC-1 KCD2-STC-EX1 KCD2-STC-EX1.2O KCD2-UT2-EX1 KFA6-SR2-Ex1.W KFD0-SD2-Ex1.1045 KFD2-CD2-EX1 KFD2-CRG2-EX1.D KFD2-DWB-1.D KFD2-EB2 KFD2-GU-1 KFD2-GUT-Ex1.D KFD2-SCD2-EX2.LK KFD2-SH-EX1.T.OP KFD2-SOT2-Ex2 KFD2-SR2-Ex1.W.LB KFD2-SR2-Ex2.W KFD2-ST2-Ex2 KFD2-STC4-1 KFD2-STC4-EX2 KFD2-STC4-Ex2 KFD2-UT2-1 KFD2-UT2-2 KFD2-UT2-EX1 KFD2-UT2-Ex2 KFD2-VR4-EX1.26 KFD2-SR2-Ex2.W KFD2-SL2-Ex1 KFD2-SR2-Ex1.W KFD2-STC4-Ex1 KFD2-SR2-EX.1.W.LB KFD2-EB2.R4A.B KFD2-SCD2-EX1.LK KFD2-SR2-EX2.W KFD2-SL2-EX2.B KFD0-TT-EX1 KFD0-TR-EX1 KFD2-STC4-EX2 KFD2-UFC-EX1.D KFD2-SCD2-EX2-LK KFD2-CD-EX1.32-15 KFD2-STC4-EX1.2O KFD2-SH-EX1.T.OP KFD2-SR2-EX2.2S KFD2-BR-1.PA.93 KFD2-UT2-EX2 KFD2-UFC-EX1.D KFD0-SD2-EX1.1045 KFD2-SOT2-EX1.LB KFD2-STC4-EX1.20 KFD2-STC4-1.20 KFD2-SCD2-EX2.LK KFD2-SCD2-2.LK KFD2-SH-EX1 KFD0-SD2-Ex2.1245
KFD2-SL2-Ex1.LK KFD2-BR-Ex1.3PA.93 KFD2-CD2-EX2 KFD2-UT2-EX2 KFD2-STC4-EX1.2O KFD2-CR4-1.2O KFD2-CD2-EX1 KFD2-SL2-EX2
KLD2-PR-1.IEC KFD2-WAC2-EX1.D KFD2-UFT-EX2.D KFD2-UFC-1.D KFD-STC4-EX1.2O.DE KFD2-SCD2-EX1 KFD2-PT2-Ex1 KFD2-SR2-EX2.2S KFD0-SD2-EX1.1045 KCD2-E2L KCD2-STC-EX1 KFD2-SR2-EX1.W KFD2-SCD2-EX1-LK KCD2-SCD-EX1 KFD2-UT2-EX1 KFD2-VR4-EX1.26 KFD2-SR2-EX1.W.LB KFDO-RSH-1 KFD2-GS-1.2W KFD2-EB.R4A.B KFD0-SCS-EX1.55 KFD2-EX1.32 KFD2-STC4-Ex1-Y1. KFD2-SR2-EX2.2S KFD2-SCD2-EX2.LK
Pepperl+Fuchs KCD2-SR-EX1.LB Switch Amplifiers KCD2-SR-EX1.LB Safety Barriers
KCD2-SCD-1 KCD2-SCD-EX1 KCD2-SR-EX1.LB KCD2-SR-EX2 KCD2-STC-1 KCD2-STC-EX1 KCD2-STC-EX1.2O KCD2-UT2-EX1 KFA6-SR2-Ex1.W KFD0-SD2-Ex1.1045 KFD2-CD2-EX1 KFD2-CRG2-EX1.D KFD2-DWB-1.D KFD2-EB2 KFD2-GU-1 KFD2-GUT-Ex1.D KFD2-SCD2-EX2.LK KFD2-SH-EX1.T.OP KFD2-SOT2-Ex2 KFD2-SR2-Ex1.W.LB KFD2-SR2-Ex2.W KFD2-ST2-Ex2 KFD2-STC4-1 KFD2-STC4-EX2 KFD2-STC4-Ex2 KFD2-UT2-1 KFD2-UT2-2 KFD2-UT2-EX1 KFD2-UT2-Ex2 KFD2-VR4-EX1.26
Pepperl+Fuchs KCD2-SR-EX1.LB Switch Amplifiers KCD2-SR-EX1.LB Safety Barriers
KCD2-STC-Ex1 KCD2-STC-Ex1.ES KFD2-CRG2-Ex1.D KFD2-HLC-Ex1.D KFD2-HLC-Ex1.D.2W KFD2-STC4-Ex1 KFD2-STC4-Ex1.2O KFD2-STC4-Ex1.2O.H KFD2-STC4-Ex1.H KFD2-STC4-Ex2 KFU8-CRG2-Ex1.D KCD2-STC-Ex1.2O KCD2-STC-Ex1.2O.ES KCD2-STC-Ex1.ES.SP KCD2-STC-Ex1.SP KFD2-STC3-Ex1 KFD2-STC4-Ex1-Y1 KFD2-STC4-Ex1.2O-Y1 KFD2-STC4-Ex1.ES KFD2-STC4-Ex2-Y1 KFD2-STC5-Ex1 KFD2-STC5-Ex1.2O KFD2-STC5-Ex1.2O.H KFD2-STC5-Ex1.H KFD2-STC5-Ex2 KFD2-STC5-Ex2 KFD2-STC5-Ex2 KFD2-STV4-Ex1.2O-1 KFD2-STV4-Ex2-1 KFD2-STV4-Ex2-2 KFD2-STV5-Ex1-1 KCD2-STC-Ex1.2O.DE KFD2-HLC-Ex1.D.4S KFD2-STV4-Ex1.2O-2 KCD2-STC-Ex1.HC KCD2-STC-Ex1.HC.SP KFD2-STC4-Ex1 KFD2-STC4-Ex1-Y1 KFD2-STC4-Ex1.2O KFD2-STC4-Ex1.2O-Y1 KFD2-STC4-Ex1.2O.H KFD2-STC4-Ex1.H KFD2-STV4-Ex1-1 KFD2-STV4-Ex1-2 KFD2-STV4-Ex1.2O-1 KFD2-STV4-Ex2-1 KFD2-STV4-Ex2-2 KFD2-STV4-Ex1.2O-2 KFD2-STC3-Ex1 KCD2-STC-Ex1-Y1
Pepperl+Fuchs KCD2-SR-EX1.LB Switch Amplifiers KCD2-SR-EX1.LB Safety Barriers
KCD2-STC-Ex1 KCD2-STC-Ex1.ES KFD2-CRG2-Ex1.D KFD2-HLC-Ex1.D KFD2-HLC-Ex1.D.2W KFD2-STC4-Ex1 KFD2-STC4-Ex1.2O KFD2-STC4-Ex1.2O.H KFD2-STC4-Ex1.H KFD2-STC4-Ex2 KFU8-CRG2-Ex1.D KCD2-STC-Ex1.2O KCD2-STC-Ex1.2O.ES KCD2-STC-Ex1.ES.SP KCD2-STC-Ex1.SP KFD2-STC3-Ex1 KFD2-STC4-Ex1-Y1 KFD2-STC4-Ex1.2O-Y1 KFD2-STC4-Ex1.ES KFD2-STC4-Ex2-Y1 KFD2-STC5-Ex1 KFD2-STC5-Ex1.2O KFD2-STC5-Ex1.2O.H KFD2-STC5-Ex1.H KFD2-STC5-Ex2 KFD2-STC5-Ex2 KFD2-STC5-Ex2 KFD2-STV4-Ex1.2O-1 KFD2-STV4-Ex2-1 KFD2-STV4-Ex2-2 KFD2-STV5-Ex1-1 KCD2-STC-Ex1.2O.DE KFD2-HLC-Ex1.D.4S KFD2-STV4-Ex1.2O-2 KCD2-STC-Ex1.HC KCD2-STC-Ex1.HC.SP KFD2-STC4-Ex1 KFD2-STC4-Ex1-Y1 KFD2-STC4-Ex1.2O KFD2-STC4-Ex1.2O-Y1 KFD2-STC4-Ex1.2O.H KFD2-STC4-Ex1.H KFD2-STV4-Ex1-1 KFD2-STV4-Ex1-2 KFD2-STV4-Ex1.2O-1 KFD2-STV4-Ex2-1 KFD2-STV4-Ex2-2 KFD2-STV4-Ex1.2O-2 KFD2-STC3-Ex1 KCD2-STC-Ex1-Y1
Pepperl+Fuchs KCD2-SR-EX1.LB Switch Amplifiers KCD2-SR-EX1.LB Safety Barriers
KCD2-SCD-1 KCD2-SCD-EX1 KCD2-SR-EX1.LB KCD2-SR-EX2 KCD2-STC-1 KCD2-STC-EX1 KCD2-STC-EX1.2O KCD2-UT2-EX1 KFA6-SR2-Ex1.W KFD0-SD2-Ex1.1045 KFD2-CD2-EX1 KFD2-CRG2-EX1.D KFD2-DWB-1.D KFD2-EB2 KFD2-GU-1 KFD2-GUT-Ex1.D KFD2-SCD2-EX2.LK KFD2-SH-EX1.T.OP KFD2-SOT2-Ex2 KFD2-SR2-Ex1.W.LB KFD2-SR2-Ex2.W KFD2-ST2-Ex2 KFD2-STC4-1 KFD2-STC4-EX2 KFD2-STC4-Ex2 KFD2-UT2-1 KFD2-UT2-2 KFD2-UT2-EX1 KFD2-UT2-Ex2 KFD2-VR4-EX1.26 KFU8-FSSP-1.D
Pepperl+Fuchs KCD2-SR-EX1.LB Switch Amplifiers KCD2-SR-EX1.LB Safety Barriers
KCD2-SR-Ex1.LB KCD2-SR-Ex2 KFA6-DU-Ex1.D KFA6-ER-Ex1.W.LB KFA6-SOT2-Ex2 KFA6-SR2-Ex1.W KFA6-SR2-Ex1.W.LB KFA6-SR2-Ex2.W KFA6-SR2-Ex2.W.IR KFD2-DU-Ex1.D KFD2-ELD-Ex16 KFD2-ER-Ex1.W.LB KFD2-SH-Ex1 KFD2-SH-Ex1.T.OP KFD2-SOT3-Ex1.LB KFD2-SOT3-Ex1.LB.IO KFD2-SOT3-Ex2 KFD2-SOT3-Ex2.IO KFD2-SR2-Ex1.W KFD2-SR2-Ex1.W.LB KFD2-SR2-Ex2.W KFD2-SR3-Ex2.2S KFD2-SRA-Ex4 KFD2-ST3-Ex1.LB KFD2-ST3-Ex2 KHA6-SH-Ex1 KCD2-SON-Ex1 KCD2-SOT-Ex1.LB KCD2-SOT-Ex2 KCD2-SOT-Ex2.SP
Pepperl+Fuchs KCD2-SR-EX1.LB Switch Amplifiers KCD2-SR-EX1.LB Safety Barriers
KCD2-SR-Ex1.LB.SP KCD2-SR-Ex2.SP KCD2-ST-Ex1.LB KCD2-ST-Ex2 KFA5-SOT2-Ex2 KFA5-SR2-Ex1.W KFA5-SR2-Ex1.W.LB KFA5-SR2-Ex2.W KFA5-SR2-Ex2.W.IR KFD2-SH-Ex1.T KFD2-SOT3-Ex2.IO-Y1 KCD2-SON-Ex1.R1 KCD2-SON-Ex1.SP KCD2-SON-Ex2 KCD2-SON-Ex2.R1 KCD2-SON-Ex2.SP KCD2-SOT-Ex1.LB.SP KCD2-ST-Ex1.LB.SP KCD2-ST-Ex2.SP KFA4-SR2-Ex2.W KFA5-DU-Ex1.D KFA4-SR2-Ex1.W KFA4-SR2-Ex1.W.LB KFD2-SOT2-Ex1.LB KFD2-SOT2-Ex1.LB.IO KFD2-SOT2-Ex2 KFD2-SOT2-Ex2.IO KFD2-SOT2-Ex2.IO-Y181008 KFD2-SR2-Ex2.2S KFD2-ST2-Ex1.LB KFD2-ST2-Ex2
Pepperl+Fuchs KCD2-SR-EX1.LB Switch Amplifiers KCD2-SR-EX1.LB Safety Barriers
KFD2-STC4-EX1 KFD2-SR2-EX1.W KFD2-SR2-EX2.W KFD2-CD-EX1.32 KFD2-UT2-EX1. KFD2-ST-EX1 KFD2-UFC-EX1.D KFA5-SR2-EX2.W KFA5-SR2-EX1.W KFA6-SR2-EX2.W KFA5-SR2-EX1.W KFD2-ST-EX1 KFD2-SOT2-EX1 KFU8-UFC-EX1.D KFD2-CD-EX1.32 KFU8-FSSP-1.D KFA6-DWB-EX1.D KFD2-DWB-EX1.D KFA5-SR2-EX1,W KFA5-SR2-EX2,W KFD2-VR4-EX1.26 KFD2-STC4-EX1.20 KFD2-SOT2-EX2 KFD2-ST2-EX1.B KFD2-DWB-EX1.D KFD2-UFC-EX1.D KFA6-STR-1.24.500 KFD2-UT2-1 KFD2-UT2-2 KFD2-CD-1.32 KFD2-SOT2-EX1.LB KFA6-SR2-EX1.LB KFA6-SOT2-EX2 KFU8-FSSP-1.D KFU8-UFC-EX1,D KFU8-UFT-EX2.D KFA6-DWB-EX1.D KFD0-SCS-EX1.55 KFD2-STC4-EX2 KFD2-STC4-EX1Y125882 KFD2-UT2-EX2 UPR-03 KFD2-EB2.B4.AB KFD2-CD-EX1.32 KFD2-STC4-EX1 KFD2-UT2-EX1 KFD2-SR2-Ex1.W KFD2-SCD-EX1.LK KFD2-SOT2-EX2 KFD2-STC4-EX2 KFD2-SR2-Ex2.W KFD2-SR2-Ex1.W KFD2-STC4-EX1.2O KFD0-SCS-EX1.55 KFU8-UFC-EX1.D KFD2-SOT2-EX2 KFD2-STC4-EX1 KFD2-UT2-EX2 KFD2-VR4-EX1.26 KFD2-EB2.R4A.B KFD2-BR-1.PA.93 KFU8-DWB-1.D KFU8-DW-1.D KFU8-UFT-EX2.D Z787.H UPR-03
Pepperl+Fuchs KCD2-SR-EX1.LB Switch Amplifiers KCD2-SR-EX1.LB Safety Barriers
KCD2-SR-EX1.LB KFD2-SR2.Ex1.W KFA5-SR2-Ex1.W KFA6-SR2-Ex1.W KFD2-SR2-Ex1.W.LB KFA5-SR2-Ex1.W.LB KFA6-SR2-Ex1.W.LB KCD2-SR-EX2 KFD2-SR2-Ex2.W KFA5-SR2-Ex2.W KFA6-SR2-Ex2.W KFA5-SR2-EX2.W.IR KFA6-SR2-EX2.W.IR KFD2-SR2-Ex2.2S KFD2-SRA-Ex4 KFD2-SRT-Ex1 KFD2-SR-Ex1.4S.LK KFD2-DU-Ex1.D KFA5-DU-EX1.D KFA6-DU-EX1.D KFD2-ER-EX1.W.LB KFA5-ER-EX1.W.LB KFA6-ER-EX1.W.LB KFD2-ST2-Ex1.LB KFD2-ST2-Ex2 KFD2-SOT2-Ex1.LB KFD2-SOT2-EX1.LB.IO KFD2-SOT2-Ex1.N KFD2-SOT2-Ex2 KFA5-SOT2-Ex2 KFA6-SOT2-Ex2 KFD2-SOT2-Ex2.IO KFD2-SH-Ex1 KFD2-SH-Ex1.T.OP KHA6-SH-Ex1 KFD2-SR2-EX2.W.SM KFD2-DWB-Ex1.D KFA5-DWB-EX1.D KFA6-DWB-EX1.D KFD2-UFC-EX1.D KFU8-UFC-EX1.D KFD2-UFT-Ex2.D KFU8-UFT-Ex2.D KFD0-SD2-Ex1.1045 KFD0-SD2-Ex2.1045 KCD0-SD-EX1.1245 KFD0-SD2-EX2.1245 KFD0-SD2-Ex1.1065 KFD0-SD2-Ex1.1180 KFD0-SD2-Ex1.10100 KFD2-SL2-EX1 KFD2-SL2-EX1.B KFD2-SL2-Ex1.LK KFD2-SL2-Ex2 KFD2-SL2-Ex2.B KFD2-VM-Ex1.35 KFD2-VM-Ex1.35.L KFD0-RO-Ex2 KCD2-STC-EX1 KFD2-STC4-Ex1 KFD2-STC4-Ex1-Y122583 KFD2-STC4-Ex1.H KFD2-STV4-EX1-1 KFD2-STV4-EX1-2 KFD2-STC4-Ex1.2O KFD2-STC4-Ex1.2O-Y122582 KFD2-STC4-Ex1.2O.H KFD2-STV4-EX1.2O-1 KFD2-STV4-Ex1.2O-2 KFD2-STC4-Ex2 KFD2-STC4-Ex2-Y203646 KFD2-STV4-EX2-1 KFD2-STV4-EX2-2 KFD2-STC3-Ex1 KFD2-STV3-Ex1-1 KFD2-STV3-Ex1-2 KFD2-CRG-Ex1.D KFU8-CRG-Ex1.D KFD0-CS-Ex1.52 KFD0-CS-Ex2.52 KFD0-CS-Ex1.54 KFD0-CS-Ex2.54 KFD2-VR2-Ex1.50m KFD2-VR-Ex1.500m KFD2-VR-Ex1.12 KFD2-VR-Ex1.18 KFD2-VR-Ex1.19 KFD2-VR4-EX1.26 KFD0-CC-Ex1 KFD2-WAC2-EX1.D KFD2-UT2-Ex1 KFD2-UT2-Ex1-1 KFD2-UT2-Ex2 KFD2-UT2-Ex2-1 KFD0-TR-Ex1 KFD0-TT-Ex1 KCD2-RR-Ex1 KFD2-GU-Ex1 KFD2-GUT-Ex1.D KFU8-GUT-EX1.D KFD2-UT2-Ex1 KFD2-UT2-Ex1-1 KFD2-UT2-Ex2 KFD2-UT2-Ex2-1 KFD2-RR-Ex1 KFD2-PT2-Ex1 KFD2-PT2-Ex1-1 KFD2-PT2-Ex1-4 KFD2-PT2-Ex1-5 KFD0-RC-Ex1 KFD2-HLC-EX1.D KFD2-HLC-EX1.D.2W KFD2-HLC-EX1.D.4S KFD2-FF-Ex2.RS232 KFD2-ELD-Ex16
KCD2-SCD-EX1 KFD2-SCD-Ex1.LK KFD2-SCD2-Ex1.LK KFD2-CD2-EX1 KFD2-CD-EX1.32 KFD2-SCD2-EX2.LK KFD2-CD2-EX2 KFD0-SCS-Ex1.55 KFD0-CS-Ex1.50P KFD0-CS-Ex1.51P KFD0-CS-Ex1.53 KFD0-CS-Ex2.50P KFD0-CS-Ex2.51P KFD0-CS-Ex2.53 KFD2-EB2.R4A.B KFD2-EB2 KFA6-STR-1.24.500 KFA6-STR-1.24.4 UPR-03 UPR-03-S UPR-05 UPR-05-S UPR-I UPR-E K-MS K-CJC-BU KF-FKC-3G2B KF-FKC-5B KF-FKC-5G K-500R0%1 KCD0-LGH KFD0-LGH KFD0-LGH-GN KFD0-LGH-Y34868 F-KD-Ex2 F-KDR-Ex2 IS01 F-MPN-1 K-ADP1 K-ADP-USB