MTL4544 MTL4544S Safety Barriers MTL4544 MTL4544S Repeater Power Supply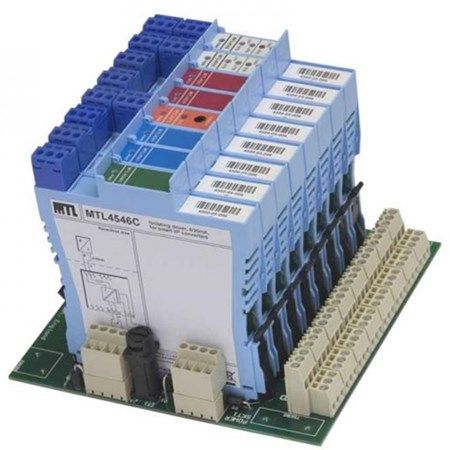 Description of MTL4544 MTL4544S Safety Barriers MTL4544 MTL4544S Repeater Power Supply
MTL4544/S provides fully-floating dc supplies for energising two conventional 2-wire or 3-wire 4/20mA or HART transmitters located in a hazardous area, and repeats the current in other circuits to drive two safe-area loads. For smart transmitters, the unit allows bi-directional transmission of digital communication signals superimposed on the 4/20mA loop current. Alternatively, the MTL4544S acts as a current sink for a safe-area connection rather than driving a current into the load. Separately powered current sources, such as 4-wire transmitters, can be connected but will not support HART communication.
Specification of MTL4544 MTL4544S Safety Barriers MTL4544 MTL4544S Repeater Power Supply
See also common specification
Number of channels Two
Location of transmitter Zone 0, IIC, T4–6 hazardous area if suitably certified
Div. 1, Group A hazardous location
Safe-area output
Signal range: 4 to 20mA
Under/over-range: 0 to 24mA
Safe-area load resistance (MTL5544)
@ 24mA: 0 to 360Ω
@ 20mA: 0 to 450Ω
Safe-area load (MTLx544S)
Current sink: 600Ω max.
Maximum voltage source: 24V dc
Safe-area circuit output resistance: > 1MΩ
Safe-area circuit ripple
< 50µA peak-to-peak
Hazardous-area input
Signal range: 0 to 24mA (including over-range)
Transmitter voltage: 16.5V at 20mA
Transfer accuracy at 20°c
Better than 15µA
Temperature drift
< 0.8µA/°C
Response time
Settles to within 10% of final value within 50µs
Communications supported
HART (terminals 1 & 2 and 4 & 5 only)
MTL4500 Series Barriers MTL4544 MTL4544S Safety Barriers MTL4544 MTL4544S Repeater Power Supply
MTL4501-SR, MTL4504, MTL4510, MTL4510B, MTL4511, MTL4513, MTL4514 (B)(D), MTL4516, MTL4516C, MTL4517, MTL4521, MTL4521L, MTL4523, MTL4523L, MTL4523R, MTL4523V, MTL4523VL, MTL4524, MTL4524S, MTL4525, MTL4526, MTL4531, MTL4532, MTL4533, MTL4541, MTL4541A, MTL4541AS, MTL4541B, MTL4541P, MTL4541S, MTL4541T, MTL4544, MTL4544A, MTL4544AS, MTL4544B, MTL4544D, MTL4544S, MTL4546, MTL4546C, MTL4546S, MTL4546Y, MTL4549, MTL4549C, MTL4549Y, MTL4561, MTL4575, MTL4576-RTD, MTL4576-THC, MTL4581
MTL4544 MTL4544S Safety Barriers MTL4544 MTL4544S Repeater Power Supply
MTL5501-SR, MTL5510, MTL5510B, MTL5511, MTL5513, MTL5514, MTL5514D, MTL5516C, MTL5517, MTL5521, MTL5522, MTL5523, MTL5523V, MTL5523VL, MTL5524, MTL5525, MTL5526, MTL5531, MTL5532, MTL5533, MTL5541, MTL5541A, MTL5541AS, MTL5541S, MTL5544, MTL5544A, MTL5544AS, MTL5544D, MTL5544S, MTL5546, MTL5546Y, MTL5549, MTL5549Y, MTL5561, MTL5575, MTL5576-RTD, MTL5576-THC, MTL5581, MTL5582 MTL5544D MTL5575 MTL5516C MTL4541 MTL5541 MTL5546Y ICC212 IOP32 IOP32D
MTL4544 MTL4544S Safety Barriers MTL4544 MTL4544S Repeater Power Supply
MTL7706+ MTL7707+ MTL7707P+ MTL7710+ MTL7715+ MTL7715P+ MTL7722+ MTL7728+ MTL7728- MTL7728AC MTL7728P+ MTL7729P+ MTL7741 MTL7742 MTL7743 MTL7744 MTL7745 MTL7755AC MTL7756AC MTL7758- MTL7758+ MTL7760AC MTL7761AC MTL7761PAC MTL7764+ MTL7764AC MTL7765AC MTL7766AC MTL7766PAC MTL7767+ MTL7778AC MTL7779+ MTL7787+ MTL7787- MTL7787P+ MTL7788+ MTL7788R+ MTL7789+ MTL7796- MTL7796+ MTL7798 MTL7799 MTL705+ MTL706+ MTL707+ MTL707P+ MTL708+ MTL710+ MTL710AC MTL710P+ MTL715+ MTL715P+ MTL722+ MTL722P+ MTL728+ MTL728AC MTL728P+ MTL729P+ MTL751AC MTL755AC MTL758+ MTL760AC MTL761AC MTL761PAC MTL764+ MTL764AC MTL765AC MTL766AC MTL766PAC MTL767+ MTL768+ MTL772AC MTL778AC MTL779+ MTL786+ MTL787+ MTL787S+ MTL787SP+ MTL788+ MTL788R+ MTL791 MTL796+ MTL799
ICC MTL5521 Safety Barriers MTL5521 Solenoid Driver In Stock
ICC201-I1-O1 ICC201-I1-O2 ICC201-I2-O1 ICC201-I2-O2 ICC201-I2-O2 ICC211-I1-O2 ICC211-I2-O1 ICC211-I2-O2 ICC212 ICC221 ICC222 ICC241-T3 ICC241-T1 ICC241-T2 ICC301-I9-O1 ICC312 ICC316-T2 ICC317-T2-LFD ICC352-T1 ICC352-T2 ICC441 ICC446
MTL4544 MTL4544S Safety Barriers MTL4544 MTL4544S Repeater Power Supply
MTL4510 MTL4510B MTL4511 MTL4513 MTL4514 MTL4514B MTL4514D MTL4516 MTL4516C MTL4517 MTL4521 MTL4521L MTL4523 MTL4524R MTL4523L MTL4524 MTL4524S MTL4524 MTL4526 MTL4531 MTL4532 MTL4541 MTL4541A MTL4541B MTL4544 MTL4544A MTL4544D MTL4544S MTL4546Y MTL4549 MTL4549Y MTL4546 MTL4573 MTL4575 MTL4576-RTD MTL4576-THC MTL4581 MTL4599 MTL4599N
MTL5510 MTL5510B MTL5511 MTL5513 MTL5514 MTL5514D MTL5516C MTL5517 MTL5521 MTL5522 MTL5523 MTL5523V MTL5523VL MTL5524 MTL5525 MTL5526 MTL5531 MTL5532 MTL5533 MTL5541 MTL5541AS MTL5541S MTL5544 MTL5544A MTL5544AS MTL5544D MTL5544S MTL5546 MTL5546Y MTL5549 MTL5549Y MTL5561 MTL5573 MTL5575 MTL5576-RTD MTL5576-THC MTL5581 MTL5582 MTL5599 MTL5314 MTL5501-SR MTL5510 MTL5510B MTL5511 MTL5513 MTL5514 MTL5516C MTL5517 MTL5521 MTL5522 MTL5523 MTL5524 MTL5525 MTL5526 MTL5531 MTL5532 MTL5533 MTL5541 MTL5541A MTL5541AS MTL5541S MTL5544 MTL5544A MTL5544AS MTL5544D MTL5544S
MTL4544 MTL4544S Safety Barriers MTL4544 MTL4544S Repeater Power Supply
MTL4501-SR MTL4504 MTL4510 MTL4510B MTL4511 MTL4513 MTL4514 MTL4516 MTL4516C MTL4517 MTL4521 MTL4521L MTL4523 MTL4523R MTL4523L MTL4524 MTL4524S MTL4525 MTL4526 MTL4531 MTL4532 MTL4533 MTL4541 MTL4541A MTL4541AS MTL4541B MTL4541P MTL4541S MTL4544 MTL4544A MTL4544AS MTL4544B MTL4544D MTL4544S MTL4546 MTL4546C MTL4546Y MTL4549 MTL4549C MTL4549Y MTL4561 MTL4575 MTL4576-RTD MTL4576-THC MTL4599 MTL4599N
MTL4544 MTL4544S Safety Barriers MTL4544 MTL4544S Repeater Power Supply
MTL7706+ MTL7707+ MTL7707P+ MTL7710+ MTL7715+ MTL7715P+ MTL7722+ MTL7728+ MTL7728- MTL7728AC MTL7728P+ MTL7729P+ MTL7741 MTL7742 MTL7743 MTL7744 MTL7745 MTL7755AC MTL7756AC MTL7758- MTL7758+ MTL7760AC MTL7761AC MTL7761PAC MTL7764+ MTL7764AC MTL7765AC MTL7766AC MTL7766PAC MTL7767+ MTL7778AC MTL7779+ MTL7787+ MTL7787- MTL7787P+ MTL7788+ MTL7788R+ MTL7789+ MTL7796- MTL7796+ MTL7798 MTL7799 MTL705+ MTL706+ MTL707+ MTL707P+ MTL708+ MTL710+ MTL710AC MTL710P+ MTL715+ MTL715P+ MTL722+ MTL722P+ MTL728+ MTL728AC MTL728P+ MTL729P+ MTL751AC MTL755AC MTL758+ MTL760AC MTL761AC MTL761PAC MTL764+ MTL764AC MTL765AC MTL766AC MTL766PAC MTL767+ MTL768+ MTL772AC MTL778AC MTL779+ MTL786+ MTL787+ MTL787S+ MTL787SP+ MTL788+ MTL788R+ MTL791 MTL796+ MTL799
SD07 SD16 SD32 SD55 SD07X SD16X SD32X SD55X SD150X SD275X SD07R SD16R SD32R SD55R SD07R3 SD16R3 SD32R3 SD55R3 SDRTD SD32T3 SDPSTN SLP07D SLP16D SLP32D MA15/D/1/SI MA15/D/2/SI MA15/D/1TT/SI MA15/D/2TT/L MA30/D/1/SI MA30/D/2/SI MA30/D/3/SI MA05/D/1 MA05/D/2 MA10/D/1 MA10/D/2 MA05/SC/1 MA05/SC/2 MA10/SC/1 MA10/SC/2 MA05/I/1 MA05/I/2 MA10/I/1 MA10/I/2
TP48-N TP48-N-NDI TP48-I TP48-I-NDI TP48-G TP48-G-NDI TP48-3-N-NDI TP48-3-I-NDI TP48-3-G-NDI TP48-3-N TP48-3-I TP48-3-G TP48-4-N-NDI TP48-4-I-NDI TP48-4-G-NDI TP48-4-N TP48-4-I TP48-4-G ICC201-I1-O1 ICC201-I1-O2 ICC201-I2-O1 ICC201-I2-O2 ICC201-I2-O2 ICC211-I1-O2 ICC211-I2-O1 ICC211-I2-O2 ICC212 ICC221 ICC222 ICC241-T3 ICC241-T1 ICC241-T2 ICC301-I9-O1 ICC312 ICC316-T2 ICC317-T2-LFD ICC352-T1 ICC352-T2 ICC441 ICC446
MTL4544 MTL4544S Safety Barriers MTL4544 MTL4544S Repeater Power Supply
MTL5011B MTL5012 MTL5012S MTL5014 MTL5015 MTL5017 MTL5018 MTL5018AC MTL5021 MTL5021-SR MTL5022 MTL5022-SR MTL5023 MTL5024 MTL5025 MTL5025-SR MTL5031 MTL5032 MTL5040 MTL5041 MTL5042 MTL5042-SR MTL5043 MTL5044 MTL5045 MTL5046 MTL5049 MTL5051 MTL5061 MTL5061-SR MTL5074 MTL5074-RTD MTL5081 MTL5082 MTL5099 MTL5314 MTL5344 MTL5349 MTL5531-111LI MTL5531-115LI MTL5991 MPA5500 MTL5501-SR MTL5510 MTL5510B MTL5511 MTL5513 MTL5514 MTL5514D MTL5516C MTL5517 MTL5521 MTL5522 MTL5523 MTL5523V MTL5523VL MTL5524 MTL5525 MTL5526 MTL5531 MTL5532 MTL5532-R MTL5533 MTL5541 MTL5541A MTL5541AS MTL5541S MTL5544 MTL5544A MTL5544AS MTL5544D MTL5544S MTL5546 MTL5546Y MTL5549 MTL5549Y MTL5561 MTL5573 MTL5575 MTL5575-R MTL5576-RTD MTL5576-THC MTL5581 MTL5582 MTL5599
MTL5510 MTL5510B MTL5511 MTL5513 MTL5514 MTL5514D MTL5516C MTL5517 MTL5521 MTL5522 MTL5523 MTL5523V MTL5523VL MTL5524 MTL5525 MTL5526 MTL5531 MTL5532 MTL5533 MTL5541 MTL5541AS MTL5541S MTL5544 MTL5544A MTL5544AS MTL5544D MTL5544S MTL5546 MTL5546Y MTL5549 MTL5549Y MTL5561 MTL5573 MTL5575 MTL5576-RTD MTL5576-THC MTL5581 MTL5582 MTL5599 MTL5314 MTL5011B MTL5014 MTL5022 MTL5024 MTL5031 MTL5042 MTL5042 MTL5046 MTL5074 MTL5082